Early Streamer Emission (ESE) Installation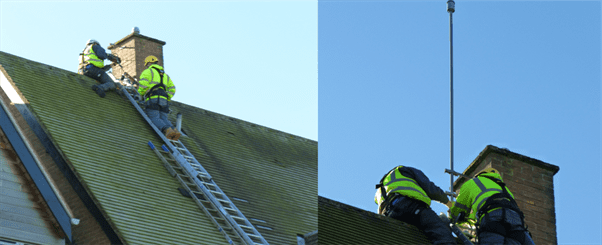 Horizon were recently commissioned to deliver a lightning protection installation at one of the UK's leading boarding schools, located in the midlands. It was reported that two of the boarding houses at the school had been struck by lightning on numerous occasions in the year, resulting in considerable damage and downtime to the sensitive electronic components i.e. alarm/security systems, computers and phones.
Following an initial site survey by our lightning protection designer and surge protection surveyor, it was recommended that two Early Streamer Emission (ESE) terminals were installed to provide protection to both structures. These ESE terminals are in accordance with the current edition of NF C 17-102, as ratified under IEC EN 62305. With ESE, the impact of the lightning strike takes place at a point above the tip of the rod, meaning a larger radius of protection, therefore enhancing the cost efficiency of the lightning protection system. As part of that requirement, there was a need to install surge which is fitted to mitigate issues for electrical and electronic equipment against surge, surges including transit over voltages.
Due to access restrictions, Horizon's engineers utilised a combination of conventional access ladders, secondary safety lines and MEWP equipment to complete the ESE works. In addition to the external lightning protection, an equipotential connection was installed between the lightning protection system and the main electrical bar terminal. This supplemented the installation of a purpose designed class I/class II combined lightning current surge arrestor device, which were installed on the main electrical incoming service.
This project was completed over a period of 5 days to budget, and without any safety issues occurring. These latest works also reinforce Horizon's association and long standing relationship with our client, having delivered a range of lightning protection maintenance services across the school for the past 9 years.
The Installation