Freestanding Guardrail Installation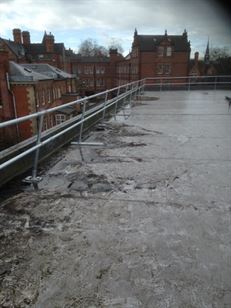 Horizon Specialist Contracting were initially called upon to repair a high level wire rope edge protection system. However, it became apparent during our first visit to site that the masonry parapet wall condition was no longer suitable to install anchors and support the loads applied by a tensioned wire rope edge protection system.
As such, an alternative means of protection was installed (freestanding guardrail), offering a robust solution with no anchorage or disruption to the existing roof structure. The guardrail installed was a freestanding design, requiring no roof penetrations and approximately 95m in length. On completion of the installation, the existing wire rope edge protection was dismantled, decommissioned and removed from roof level.
This project was completed over a period of 3 days to budget, and without any safety issues occurring