Historic Bottle Kiln Works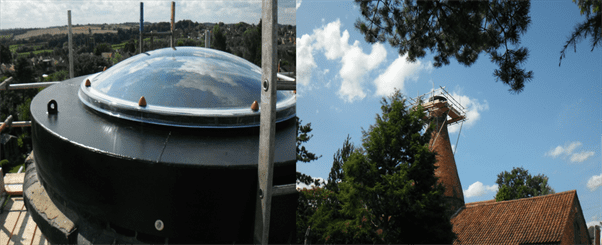 Horizon was called in by the operators of this disused historic Bottle Kiln to offer a solution to 'temporary job' undertaken by others in order to weather seal the Kiln.
Previously the open top kiln had been covered over by plastic sheeting in order to help prevent rain and wind from damaging the inside of the kiln. The added issue with this job was not only did a permanent solution to the capping need solving but as the Kiln is now a specialist shop / museum the entrance to the building takes you directly under and through the old kiln itself.
Just capping off the Kiln was an option but Horizon proposed to install a bespoke clear domed skylight capping to allow light to pass through and also enhance the viewing gallery below.
Horizon installed specialist scaffold and Steeplejack ladders to enable the capping could be installed safely and correctly. The custom dome capping was made to measure and installed by our specialist trained steeplejacks.
With the works complete the Kiln not only has a weather tight seal and ascetically pleasing outside but also has a fantastic source of natural light and viewing gallery below.