Lightning Protection Installation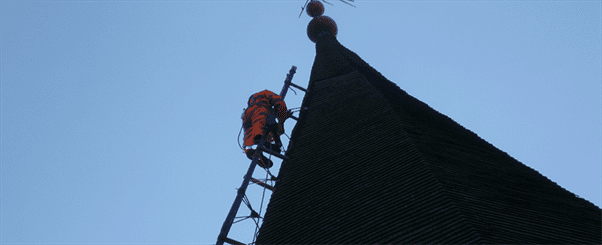 Horizon recently removed an old and inadequate lightning conductor system from a church and replaced it with a new and up to standard system in line with BS EN 62305;2011
The old single bare copper down conductor had oxidised over the years and was not pleasing to look at, this was not helped by the unsightly installation of the tape by the original installer that had it running down the middle of the clock face of the church tower. Horizon removed the old tape by installation steeplejack ladders to the summit of the church spire and then using rope access techniques abseiled down the spire to remove the old tape and fixings.
Using the same method Horizons operatives then installed the new Grey PVC Coated tape. In addition to the tapes being colour coded to blend into the church roof and stone work they were also installed along ridge lines and then down the corner faces of the tower to make it almost unnoticeable, much to the clients delight. The other down conductors installed on the church were installed in the same fashion to give a very pleasing aesthetic finish in comparison to the original installation
Before any works began, Horizon undertook an environmental check list that took into account all heritage issues and environmental issues that may be encountered whilst working on this site in linewith our ISO 14001 procedures.