Listed Chimney Remedial Works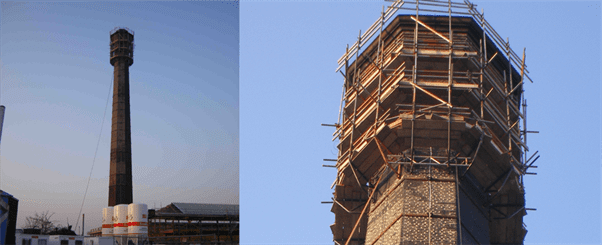 Horizon recently completed a number of remedial works to a redundant 117 year old freestanding octagonal brick chimney, which rises 51 metres from ground level and terminates with a brick and cast-iron corbelled flare at the summit.

The chimney is a grade two listed structure, which originally belonged to York Council and was used as a Council depot and a Recycling Plant in its formative years.

The work was to be carried out in preparation of a new 6500 square metre supermarket and petrol station being opened on the site.

Following a detailed inspection survey, Horizon was tasked to undertake the identified remedial works to ensure that the chimney remained in safe condition.
Due to the location of the chimney,its position was directly above a major building project, intricate planning and project management was necessary to ensure that all potential safety issues were overcome.
In order to do this, Horizons specialist engineers had to erect ladders up the outside of the chimney for its full height. Then supply, erect and fix a multi levelled working scaffold platform around the upper 8 metres of chimney. this scaffold was complete with all lifts boarded ,handrailed & toe-boards in full compliance with current scaffolding regulations, in order to work safely and carry out the required works to the grade two listed structure.
The project duration was over four months and completed without any safety issues or incidents occuring. This resulted in the managing contractor commending us and our site personnel on a successful conclusion to the contract in a difficult working enviroment whilst allowing the development of the site to carry on unhindered.