New van fleet arrive at Horizon headquarters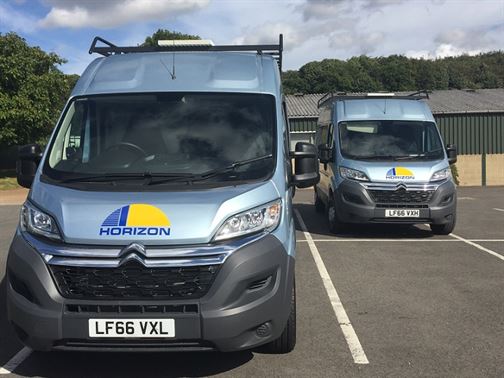 Horizon Specialist Contracting Ltd have invested in a new fleet of eco-friendly, and fuel-efficient vans, which will be employed in the mobilisation of our Lightning Protection operatives. The new vehicles are all low in emissions, as well as offering excellent fuel economy, to make a minimal impact on the environment.
We also have a newly refreshed eye catching design, making our vans more striking and easier to recognise on the roads. The new vans display the distinctive Horizon Specialist Contracting Ltd branding, and are more cost-effective. It is estimated that they will provide reductions in C02 emmisions of more than 10 per cent on average across the fleet.
James Burns, Managing Director, said: 'We're really pleased to be adding these new vans to our existing fleet. The purchase of these vans is part of Horizon's continuing drive to reduce the carbon footprint of it's van fleet, while reducing costs and raising operational efficiency'.